Key events
Kremlin: Sending tanks is seen as growing 'direct involvement in the conflict' by US and NATO
Kremlin spokesman Dmitry Peskov today said Moscow considers sending tanks to Ukraine as "direct involvement in the conflict".
On its regular daily press call, the BBC reports that Peskov told journalists:
There are constant statements from European capitals and from Washington that sending various weapon systems, including tanks, to Ukraine in no way means that these countries or NATO are involved in the hostilities taking place in Ukraine. We categorically disagree. In Moscow, everything that both the alliance and the said capitals do is seen as direct involvement in the conflict. We see it growing.
Viacheslav Chausthe governor of Chernihiv, has confirmed that the region has been hit by a hack of its IT systems. He posted on Telegram to say:
Yesterday a large-scale virus attack was carried out on the servers of the authority. Part of the systems has been switched off for protection. The regional government site and the local government site are temporarily down. Specialists are working to restore the system. This is not the first attack, there have been dozens of such attacks in the past year.

IT specialists say that this virus attack was well planned, the virus program entered the system in advance. And now it is activated. Fortunately, we have sufficient means of communication and information exchange. Such attacks do not affect our work in any way, except that it takes a little more time to exchange information.
There are new reports of explosions in Cherson broadcast by Suspilne, the Ukrainian state broadcaster.
Energy infrastructure damaged in Odessa, no injuries, after rocket attack
A spate of Russian missile strikes has damaged energy infrastructure in Ukraine's southern port city Odessa on Thursday, the Odessa district military administration said on Telegram. Reuters reports that the authority has not named any injuries.
A German citizen has been arrested at Munich airport on suspicion of treason for allegedly passing intelligence to Russia, the prosecutor's office said on Thursday.
Reuters reports that the man, identified only as Arthur E, was arrested Sunday when he arrived in Germany from the United States, the prosecutor said in a statement. He is said to be an associate of Carsten L, an employee of the German Foreign Intelligence Service (BND) who was arrested in December on suspicion of spying for Russia.
At least one killed, two wounded after rocket attack on Kiev – Mayor
Kiev Mayor Vitali Klitschko has posted on Telegram that at least one person has been killed as a result of this morning's attacks. He is writing:
As a result of a rocket hit a non-residential building in the Holosivskyi district, there is currently information about one death and two injuries. The injured were taken to hospital by doctors.
Wave of Russian missile attacks in Ukraine, day after the West agreed to send tanks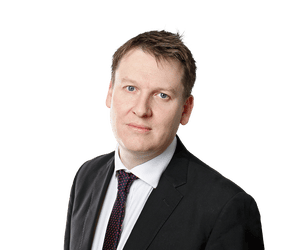 Daniel Boffey
Daniel Boffey reports for the Guardian from Kiev:
Massive explosions shook Kiev and sirens sounded across Ukraine on Thursday morning in a massive missile attack, 24 hours after the US and Germany made commitments to send advanced battle tanks.
A total of 30 missiles were said to be headed towards targets in the war-torn country after Ukraine's air defenses shot down 24 Iranian-made Shahad "kamikaze" drones overnight.
"We are expecting more than 30 missiles, which have already appeared in several areas," said Yuriy Ignat, a Ukrainian military spokesman. "Air defense systems work."
Another spokesman later claimed that Ukraine's air defense had shot down 15 cruise missiles headed for Kiev.
In the capital, the calm of a cold and snowy morning was broken at 10:06 a.m. local time by the sound of large explosions near the central station. Further information was not immediately available.
Kiev mayor Vitali Klitschko reported on Telegram that there had been explosions in the city.
As people rushed to basements and bunkers for protection, local authorities tried to reassure the population that they had the resources to shoot down some of the missiles.
The Ukrainian Air Force said it had successfully stopped an overnight drone strike. "Attack UAVs (unmanned aerial vehicles) were launched from the east coast of the Sea of ​​​​Azov. According to preliminary information, the enemy used 24 Shaheds. All 24 were destroyed," the air force said.
Andriy Yermak, the head of the presidential office, said on Telegram: "The first Russian missiles have been shot down."
In the UK, John Healey, the defense spokesman for the opposition party, has urged the UK government on Sky News to publish a long-term plan for providing support to Ukraine. He told viewers:
What is crucial now is that the Western countries that want to support Ukraine – and there are more than 40 countries that support Ukraine in this fight – remain united and continue their long-term supply.

So for many months now I have been advocating for the government to move beyond ad hoc announcements of military support to Ukraine – which have our full support – and move beyond those ad hoc announcements to a full plan for 2023 and beyond for the military. economic and humanitarian aid that we will provide to Ukraine. Partly because that will give Ukraine more confidence and reassurance that British support will be maintained, but it will also send a signal to Putin that things will get worse for Russia, not better.
Asked about the significance of Germany's decision this week to send tanks to Ukraine, Healey said:
This is a very important step by Germany. And what is important here are not only the tanks, but also the artillery, the armored vehicles, the ammunition.

It confronts one of the biggest miscalculations Putin made in his ruthless and illegal invasion of Ukraine last year, namely that he miscalculated the determination and determination of the Western countries to stand together, stand behind Ukraine and remain united. .

And that decision by the Germans now about Leopard tanks allows other countries to work together to support Ukraine in this battle, to repel Russian aggression and reclaim their own land.
KievMayor Vitali Klitschko reported on Telegram that there have been explosions in the city.
The Kiev The city government has reported that 15 cruise missiles were shot down by air defenses in the direction of Ukraine's capital, Suspilne, the Ukrainian state broadcaster, said.
It has also reported that some residents in Odessa say they are out of water.
Spokesperson of the Ukrainian Air Force: More than 30 missiles are expected
Suspilne, the Ukrainian state broadcaster, quotes an Air Force spokesman as saying:
In total, more than 30 missiles are expected, which are already launched in different areas. He added that in the morning about six Tu-95 aircraft took off and fired missiles.
Reuters reports that one of its journalists heard the sound of a rocket flying over at low altitude, about 30 km from the capital Kyiv.
The latest update reports that two missiles were spotted over the territory of the Mykolaiv region, the governor, Vitaly Kimsaid on the Telegram messaging app.
"Missiles fly within the territory of Ukraine. At least two northwest through the Mykolaiv region," he said.
Air raid sirens sounded across the country as people made their way to work. In the capital, people sheltered in a subway station, some sat on blankets and small plastic chairs.
'The first Russian missiles have been shot down' Andri Yermaksaid the head of the president's cabinet.
Maksym Kozytskyigovernor of Lviv, urged residents to take shelter and warned them against publishing information about the latest air raid alarm on the internet. In a post on the Telegram messaging app, Kozytskyi writes:
Missiles in the neighboring region. They're moving in our direction. Stay in the shelter. Do not film or post anything on the internet. If you see a suspicious aircraft, report it to the air defense forces using the telegram chatbot "Something is Flying".
Further south, there is footage from Ukrainian state broadcaster Suspilne appearing to be billowing smoke over the Odessa region.
The independent Kyiv writes that "At least six explosions rang out in the central-western city Vinnytsiaaccording to the Kiev Independent journalist on the spot.
Reports say a second set of explosions have been heard Vinnytsia. In addition, there are power cuts in 35 settlements in the Cherson region, according to Ukrainian state broadcaster Suspilne.
State broadcaster Suspilne reports that the mayor of Vinnytsia, Serhiy Morgunov, has said that "the work of anti-aircraft guns could be heard". It also quotes Serhiy Borzov, the head of the Ukrainian air force, as saying: "There is a dogfight going on. The Air Force of the Armed Forces of Ukraine controls the airspace over Vinnytsia."
The city is located in western Ukraine, some distance from the front line.
Ukrainian state broadcaster Suspilne has posted on its official Telegram channel that explosions have been heard by its correspondents in Vinnytsiaand that air defense is activated Kiev.
Anton Gerashchenkoan adviser to the Ukrainian Ministry of the Interior has said in a message that the air raid siren is in effect throughout Ukraine.
The Kyiv Independent has reported that emergency power outages have begun in some parts of Ukraine over the threat of the attack. Electricity and energy infrastructure has regularly been hit during Russian missile strikes, despite the fact that the Russian Federation has repeatedly claimed that it does not target civilians or civilian infrastructure.
"Some missiles fly through Kharkov Oblast, some through Vinnytsia in a westerly direction. Stay in shelters," the Ukrainian defense force just posted on Telegram.