Today the committee wraps up all the World Cup events as Groups G and H begin their campaign.
Cristiano Ronaldo made history as the first man to score in five World Cups in their 3-2 win over Ghana – and Brazil's attacking prowess was on point as Richarlison scored twice, including a superb volley, to get the Seleção and running.
Meanwhile, South Korea and Uruguay played to an entertaining 0-0 draw and Switzerland beat Cameroon in a mini-match at Stade Al Janoub.
In addition, Harry Kane is ready to start against the United States on Friday night after a scare.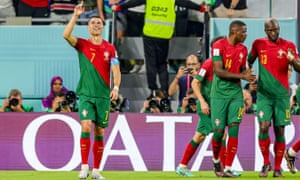 Support the guard
The Guardian newspaper is editorially independent. And we want to keep our press open and accessible to all. But we increasingly need our readers to fund our work.
Support the guard