The engineers may enjoy figuring out the numbers that make their cars go faster, but Formula 1 has endured some more torturous and decidedly impractical calculations when determining the starting grid for the Belgian Grand Prix. The only figure that matters and is extremely ominous for the world championship was Max Verstappen's advantage over the rest of the field.
He set a lap that deserved pole position, but as one of a full third of the grid ravaged by penalties, it was Ferrari's Carlos Sainz Jr, who took second, who claimed first place.
While fans were doing the mental calculus in the chilly mountain air of Spa-Francorchamps, Mercedes was left with some unflattering numbers of its own, leaving Lewis Hamilton desperate over a car he said he couldn't wait to get the back of. of to see.
Read:

Real Madrid vs Barca, El Clasico: All you need to know about LaLiga showdown | Football News to day
For the record, Verstappen delivered a mighty lap with a time of 1 minute 43,665 seconds, six tenths of Sainz in second. However, Red Bull had a new power unit fitted to the Dutchman's car, out of his assignment, leading to a back-of-the-grid penalty. With six other drivers taking similar sanctions, Verstappen will start 15th.
The musical chairs went from top to bottom on the grid, and only two drivers will start within two places of their finishing position in qualifying. Red Bull's Sergio Pérez was third (second on the grid), Alpine's Fernando Alonso sixth (to third), while Verstappen's title rival, Ferrari's Charles Leclerc, was fourth, but having also taken on a new powerplant, he will 16th start.
Read:

Arsenal squad vs Man United confirmed as Ramsdale, Odegaard and Zinchenko travel
Mercedes had entered the weekend optimistically, but was deeply disappointed. Expectations were high for the first race since F1's summer break after George Russell took pole and their two drivers took a double podium at the final round in Hungary.
Still, Hamilton, no slouch here with six poles and four wins, was seventh, almost two seconds behind Verstappen and Russell, eighth (promoted to what they know is an undeserved fourth and fifth on the grid). The seven-time world champion was blunt in his disappointment and frustration.
"We came here very, very optimistic that we could be close to half a second, who knows? To be 1.8 seconds behind is a real kick in the teeth," he said.
"It's a car we're still struggling with and I certainly won't miss it at the end of the year. For me it's about focusing on how we build and design next year's car.
"The other two teams in front of us are in a different league and our car looks so much different than theirs."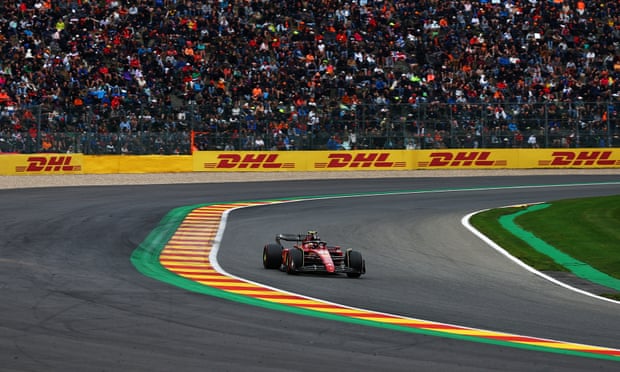 The team boss, Toto Wolff, was equally candid, describing it as his "worst qualifying session in 10 years".
Read:

Diaby and Maddison 'realistic' Newcastle United targets as January transfer incentive emerges
Nine races in 12 weeks are ahead and it looks set to be quite a grueling affair as Mercedes' performance now remains seemingly as garbled as it did at the opener in Bahrain. Hamilton's record of wins in every F1 season in which he has competed appears to be under real threat.
Not least because the real optimism after the summer break will be in the Red Bull camp. Fears the FIA ​​are arranging to quell the bounce that has plagued the entire grid could have a negative effect on the team, appear to be unfounded – Verstappen's pace here was terrifying.
In Hungary he made his way from 10th to victory and both Russell and Sainz said they believed he was in a position to do the same here on Sunday. The Dutchman has no little faith in it.
The pressure is really on Leclerc. He follows Verstappen by 80 points and cannot afford to drop any more if he is to maintain his meager title hopes. He and Ferrari cannot afford any mistakes on Sunday, while even staying with the Dutchman can be an arduous task.
Still, it's one that should be entertaining at the very least. Despite the penalty system providing an ultimately unsatisfactory qualifying showdown, it has resulted in a tangled grid meaning the numbers should contribute to some exciting races.
McLaren's Lando Norris, Alfa Romeo's Guanyu Zhou, Alpine's Esteban Ocon and Haas' Mick Schumacher also all face the same penalties as Verstappen and Leclerc, placing them at the back of the grid for using new power unit parts outside their allotment.
Williams' Alex Albon did an excellent job to finish ninth and move up to sixth on the grid. Ocon finished fifth ahead of Alpine to start 17th and McLaren's Lando Norris 10th to start 18th.
Daniel Ricciardo finished 11th for McLaren but will start seventh. Pierre Gasly finished 12th ahead of AlphaTauri and will start eighth, with Aston Martin's Lance Stroll 14th but ninth. Zhou was 13th and will be 19th, with Schumacher 15th but going to 20th.
Valtteri Bottas finished 20th but will start 14th. He was also given a penalty, but none that took him to the back of the grid, allowing him to start ahead of the other penalized drivers.
Sebastian Vettel was 16th for Aston Martin and Nicholas Latifi 17th for Williams. Kevin Magnussen finished 18th for Haas and Yuki Tsunoda 19th for AlphaTauri. They all go up six places.