wPrepping for A Christmas Carol last year, hen Mark Gatiss and crew were emerging from their rehearsal room in east London to encounter a food bank line. "You just think: Scrooge and Marley live," he says. That was last year, before the play opened; Filmed, and this year in cinemas, when the ghosts of Cratchits seem more present than ever.
"The way the current system of government has embraced cruelty as a badge of honor is appalling," Gatiss says. You're thinking: 'Are we forever locked in this loop of empathy and then absence of empathy?' "Gattiss loves a Dickens book – he reads it every year." It always amazes me how angry he is [in it]. It's a sad feeling that it's timeless."
We are about to indulge in Gatiss' work, which, at the worst of times, is at least something to cheer about. There's a cinematic showing of A Christmas Carol: A Ghost Story, which Gatiss directed and in which he plays Jacob Marley, a dream since he saw the 1970 movie Scrooge, with the role of Alec Guinness ("He dipped himself in a brain"). There's a new half-hour drama: Gatiss has revived the last four episodes of the 1970s BBC series A Ghost Story for Christmas, an event that now seems as integral to the season as mince pies. This will be another adaptation of MR James. How much does he have in it? "As far as they will let me," he says. "It's my favorite thing."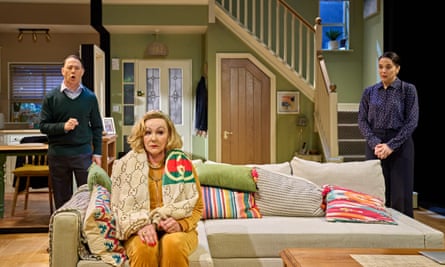 And then there are two plays: the first, in January, is the West End transfer of The Unfriend, directed by Gatiss, written by his longtime collaborator Steven Moffat. A month later, The Way Old Friends Do, written by his actor husband Ian Hallard, and directed by Gatiss, opened in Birmingham REP. Next, Gatiss will play Larry Grayson in ITV's three-part Nolly, and has a role in the next Mission: Impossible later in the year. He doesn't consider himself a workaholic, he says, laughing, "because I like to rest. But there's a lot to do. I've been very lucky with the things coming my way."
Earlier this year, Gatiss had a sudden panic attack. He was writing a "big series, which was definitely happening and then all of a sudden it didn't. Then a couple of projects stalled and I thought, 'Oh, is that it?'" He sent a letter to his friend, writer-producer Russell T Davies, to share his concern that his career was over. That included co-creating the exceptionally successful League of Gentlemen and Sherlock (he says he'd like to do a movie version), and starring in nearly every high-quality TV drama in the past few years, including Game of Thrones, Wolf Hall, and Doctor Who, which he wrote. His, too. Davies says, "He simply said, 'Wait…' Can Gatiss—the owner of a dream walk—really feel the fear? "We all do," he says. "if that's how it is [end]I'll be fine, because I've done so much of what I want."
We meet over breakfast in a London hotel, where Gatiss orders poached eggs and soldiers ("Ultimate Comfort") as he despairs of everything from Elon Musk's Twitter takeover to the climate crisis and Brexit, more austerity and attacks on the BBC. "These conservatives, it is wrong to call them conservatives. What are they saving for? They are some kind of anarchists, catastrophic capitalists." He says he has always been obsessed with politics. "I used to paint portraits in my letters of Edward Heath and Harold Wilson." But in the past few years, "it's pulled off in a way I never expected, because it only works if there are rules. The downfall of Thatcher, for example—has a theatrical dimension. But if you tear up the rules—Johnson—you can get nothing. It bothered me." .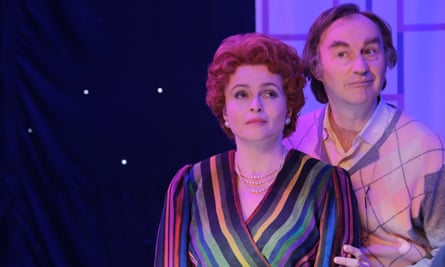 When it looked as though Boris Johnson might return, like the monster that refuses to die at the end of Schlock's horror, Gatiss was aghast. He says with a hint of a smile, "I know it sounds like a stretch, but hate has tainted my life [of that man]. I hate everything he stands for, and the amazing good luck he's had." Gatiss, he says, is "innately optimistic, but intense…" For a while, he's been in a "real slump about everything," he says.
None of this is to say that Gatiss is anything but amazing. His anger is bracing, but he will probably quote a line from his diary which he once read, or speak of Thomas Cromwell, or ABBA, or express pleasure at the absurdity of arguing, with strangers he met in a soft-furnishings warehouse last weekend, whether the British should Not to take to the streets in protest, while also admiring some curtains.
As comedian and TV presenter Grayson in Russell T Davies' long-awaited drama about the downfall of Crossroads star Noel Gordon, played by Helena Bonham Carter (Grayson was a friend of Gordon's), Gatiss enjoyed rediscovering the artist, "who I loved as a kid. Oh my God, It's funny ". Stereotypical camp stars like Grayson and John Inman, he says, were "just part of TV culture. I never remember feeling 'too shy' or anything like that. I just thought they were funny."
Not long ago, he was talking to an actor friend who "was very active in early gay politics" about a documentary about Grayson he had just watched and loved. 'I couldn't help but think of him as the enemy,' said he. It struck me very much. Russell, on the contrary, thought these people were pioneers. I think the truth is something somewhere in between. You could argue that they, though For all their atrocities, a kind of eunuch. If they had actually said, 'Yes, I have a boyfriend,' the public's reaction might have been terrifying." It's subtle, he says, "And we don't live in an age of contrast. But it can be both—stereotyping and empowerment. Larry takes these things into the living room, and some of them are incredible." He laughs: "You see these ladies literally clutching their pearls. There's something very unusual about that." And Grayson, he says, "has a kind of glamor to it. If you watch the early stuff — [before] He's brushed his teeth – he looks like Dracula." Gatiss seems perfectly pleased to see.
Gatiss grew up in County Durham in a working-class family, obsessed with horror films and ghost stories. Still, as his works show, but I wonder if his tolerance of some aspects of it has decreased with age, and loss (he's 56, lost his parents, sister, and brother-in-law). "Yes," he says with a soft laugh. "I think it's no coincidence that any 15-year-old is a bit gothic. I think the feeling lingers, but you… I remember reading a diary by actor George Baker, and working with a young director. As an exercise, she wanted them all to jump in and out of graves," he said. "Don't look for death, it will find you soon enough. It really stays with me. And it's true. When you're young, you feel so far away, you're allowed to become obsessed with it."
He pauses: "It's already changing." He still has the nerdy "Victorian kind of grandeur" – hence the BBC's delicious Dracula in 2020 – "but the reality of it is quite different, isn't it? It's two things at once. It's reassuring and it's both ordinary and absolutely extraordinary." ".
When his father passed away last year, Gatiss recalled, "I could hear the nurses in the corridor, I could hear the traffic. It's a special moment, but life flows on, and it's true. But it doesn't take away from the incredible scale of it. I think a tremendous amount of people's sense of perspective." It may change once you experience it, because it is extraordinary." All of this is delivered, in Gatiss' soft Durham accent, with a lightness and a kind of levity. There certainly couldn't be a better person with whom to discuss the big things – life and death, politics and light 70s artists – over breakfast.