If Hansi Flick was troubled, he was doing a fairly good job of hiding it. As he watched his team toil in their last home game before the World Cup, he walked at a steady pace, hands in his pockets, as if he was wandering through a park. Is there a word for the very irrational calm that overwhelms German teams in preparation for the major tournaments? If so, it is likely German.
Perhaps the irony is that Germany were defeated by one thing they don't have, the one thing they arguably would not have won a major tournament without: old school veteran No. 9. Hungarian veteran Adam Szalay is 34 years old and probably trying to re-create the winning goal against 34 again without finding the net. However, a flash of inspiration was enough to give his team a win and keep them on their way to unexpected glory in the Nations League.
Read:

Man Utd believe Cristiano Ronaldo will STAY in transfer U-turn after being impressed by Casemiro and Antony signings
What about Germany? Are we starting to worry yet? They certainly improved and created enough in the second half to indicate there was still extra gearing to be found. But there was a lack of killer instinct, a curious absence of purpose, and the feeling that they were still somewhat less than the sum of their parts. The England game on Monday should give us a better idea of ​​their progress.
Of course they're not really doing introspection here, certainly nothing on the scale of panic. Even Szalai's early goal was met not by outbursts of anger and rebellion from the Leipzig crowd but the kind of indifference with which one might greet a pitch invader. Certainly unexpected. Certainly not welcome. But ultimately it is nothing more than a wrinkle in the fabric of time, a slight inconvenience before normal service inevitably resumes.
This kind of self-confidence has obvious advantages. It shields the German sides from the kind of raucous, reactionary mood swings often driven by tabloids that are a common feature of life in other countries, we say. The downside comes when the warranty bleeds into overconfidence, and obvious flaws go unheeded. Such was the case in 2018 and 2021, when Joachim Löw's rust machine walked to modest successive exits.
Read:

Latest F1 technical images from the pitlane
Replacing Löw with Flick was supposed to fix that: a well-liked, well-balanced coach with a track record of getting star players to produce modern, cutting-edge attacking football. He started with eight straight victories, though none against opposition of any reputation. Then four straight draws against a stronger opposition followed. Then, finally, a 5-2 demolition of a panting Italy, tired of it. Conclusion: inconclusive.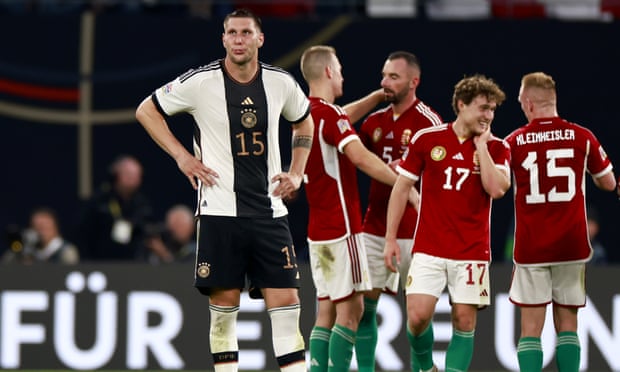 What we never doubted was talent. Regardless of the Covid-imposed Manuel Neuer absence, this was close to Flick's strongest squad. He appears to favor Ilkay Gündogan over Leon Goretzka in midfield, and Timo Werner over Kai Havertz up front. Jamal Musiala has had to settle here for a seat on the bench, although Flick may be tempted to let him lose at Wembley on Monday. The front four rotate and roam relentlessly. Linebackers Jonas Hoffmann and David Raum present the show. Gundogan and Joshua Kimmish cover the gaps they left behind.
Read:

Liverpool analysis – Jurgen Klopp finds new midfield option as bold change helps Mohamed Salah
When it succeeds, Germany can slice teams before they even know it's sliced. Here something was a little. Everything was a little slow, a little tight. Hungary is wonderfully organized, many of its players know the German Bundesliga closely and so are simply waiting. Szalay's goal, a brilliantly improvised air ball in the heel from a corner near the post, was a little more than he deserved, and Daniel Gazdag may have made it 2-0 later in the first half.
Flick made an interesting change in the break. Serge Gnabry exited sporadically, with Thelo Kehrer at right-back and Jonas Hoffmann, the former occupant at that position, moved to the left wing. Hoffmann is one of those players that international coaches adore: technically talented, defensively disciplined, effortlessly versatile and with a drive that can take you to Minsk.
The Borussia Monchengladbach midfielder had already been secured his place in the World Cup by Flick, and his push forward instantly gave Germany greater flexibility and unpredictability, even if Werner was still out there missing his usual eight-yard chance.
The inevitable siege arrived – Musiala and Haverts in the lead, gradually increasing in size – but it was Hungarian Laszlo Kleinheisler who missed the best chance of the match, squeaking clean in goal with five minutes remaining. Aside from a couple of shots for Kimish, Germany was still all chatter and no jab. They may still be fine. But then we kept saying that for a while.