main events
James Cleverly, Minister of Foreign Affairs, in Kyiv, where he met the President of Ukraine, Volodymyr Zelensky. The Foreign Office says he has announced "an additional £3m of support for the Partnership for Resilient Ukraine Fund to rebuild critical domestic infrastructure". she says:
Read:

Driver runs from crash scene on M6 as man suffers life changing injuries
Through this fund, the UK is supporting the Government of Ukraine, local officials and Ukrainian communities to rebuild critical domestic infrastructure. This enables people to return to normal life by clearing rubble from Russian attacks, making areas safe and secure, and rebuilding schools and shelters in towns and villages. This new funding will target areas recently liberated from Russian control in southern Ukraine, including the Kherson region.
RCN leader says life-sustaining care and emergency care should be exempt from nurses' strike
Pat CullenThe Secretary-General of the Royal College of Nursing told Today this morning that "life-sustaining services" and emergency care would not be covered by the RCN strikes in December. But she said the exact details of what will be exempted are still being worked out. She told the programme:
What we will continue to provide are life preservation services. And those who basically fall into emergency care…

We will have very detailed and well thought out plans that every nurse taking strike action is expected to adhere to.

And in every organization subject to an industrial strike, we have set up within that organization a local strike committee, chaired by a senior member of my team, who will be a registered nurse and also a number of clinical experts who will direct and guide all decisions that will be made.

Read:

Tributes paid to 'wonderful' Berkshire couple who died in Tilehurst crash
When asked if nurses were on the cancer wards on strike days, she replied:
Services such as oncology will be restricted or exempt from any strike. We have a number of services that we are working through at the moment that will be restricted on the day of the strike, and we will be releasing this list soon to employers.
After pressing for scans or cancer screenings such as colonoscopies, she said:
Every detail is worked through. Those services that are not considered life saving or emergency services will not be derogated from. Those that fall into those particular descriptions will be restricted.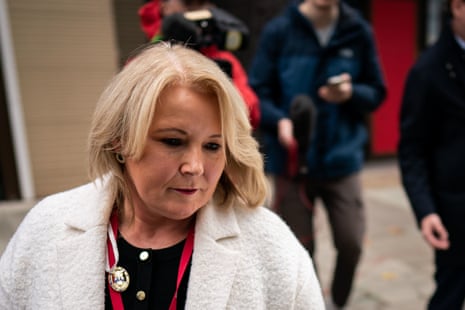 Hamza YusufThe Scottish Cabinet Minister of Health stressed that the proposed nurses' strike would not cover Scotland.
The royal mail and university lecturers' strikes continue
Royal Mail workers and university lecturers went on strike again today in long-running disputes over salaries, pensions, jobs and conditions, PA Media reports. PA says:
Members of the Communications Workers Union (CWU) and the Union of Universities and Colleges (UCU) walked out on Thursday for 48 hours, with more action planned in the coming weeks.

Picket lines were again installed outside universities and Royal Mail centers across the country on Black Friday – one of the busiest shopping days of the year.
Health Secretary Steve Barclay insists nurses get a "fair" pay rise as strike dates are announced
good morning. Another day, another strike, because the Royal College of Nursing overnight scheduled a 12-hour nursing strike for December that would affect most of the UK. my colleagues Andrew Gregory And the Jimmy Grierson Details here.
Pat CullenRCN general secretary accused Health Minister Steve Barclay of intransigence. She said:
If Barclay wishes to meet me, and turn around the table and stop turning and begin to speak, he can avoid these blows. My door is wide open day and night. I will provide for myself, as well as my team on behalf of our nursing staff. This option is not available to me at the moment, thus he has chosen strikes over talking to me.
But in the tweets this morning Bless me He insisted he was available for talks.
However, he also defended the payment offer already on the table as "fair".
I will be posting more on this soon. Here is today's agenda.
9:30 am: Representatives are discussing the Parliament's bill, starting with the Electricity and Gas Transmission (Compensation) Bill, Liam Fox.
10 am: Nicola Sturgeon, Scotland's first minister, addresses the Poverty Alliance conference in Glasgow.
11:30 AM: Downing Street holding a briefing in the lobby.
Lunch time: Keir Starmer is visiting in Birmingham.
I'm trying to monitor the comments below the line (BTL) but it's impossible to read them all. If you have a direct question, include "Andrew" somewhere and I'll be more likely to find it. I try to answer questions, and if they're of general interest, I'll post the question and response above the line (ATL), though I can't promise this to everyone.
If you want to quickly get my attention, you'd better use Twitter. I'm on @employee.
Alternatively, you can email me at [email protected]