Chelsea battled an early setback to score an impressive 3-1 win over West Ham to begin their Women's Premier League campaign at Kingsmeadow on Wednesday night.
After suffering defeat to Liverpool in the opening weekend, Emma Hayes' side racked up back-to-back victories at home to give a brighter complexion to the start of the new season.
Dagne Bringarsdottir led the visitors to an early lead (3), but Fran Kirby equalized before the break (40) before Sam Kerr (58) and Millie Bright (62) completed the turn.
Read:

Shaheen Afridi offers Pakistan edge in familiar final showdown with England | T20 World Cup 2022
Lauren James saw her save a penalty kick in the second half, but the result moved Chelsea to fourth place while West Ham, the victor over Everton on the first day, fell to ninth after a second successive defeat.
Player ratings
Chelsea women: Berger (6), Kadisha Buchanan (6), Bright (7), Ericsson (7), Berisit (6), Svetkova (7), Fleming (7), Cuthbert (8), Kirby (8), Ker (7) , Ritten (7).
Subs: England (6), James (6), Joanna Kanred (6), Charles (6), Cankovic (6).
West Ham Ladies: Arnold (7), Fisk (6), Sissoko (6), Parker (7), Smith (6), Bringersdottir (7), Longhurst (6), Stringer (6), Shimizu (6), Evans (6), Asian (6).
Subs: Walker (6), Zio (6), Kivag (6), Flannery (unknown).
Read:

James Maddison: Leicester midfielder insists he will be fit and ready to be called upon for England at Qatar World Cup | Football News
Match player: Fran Kirby.
How Chelsea made back-to-back WSL wins
The match was rearranged at Kingsmeadow from 11 September after the Queen's death.
West Ham, who had never beaten Chelsea in the league, took the lead after just three minutes when Iceland midfielder Bringarsdottir headed in a corner kick.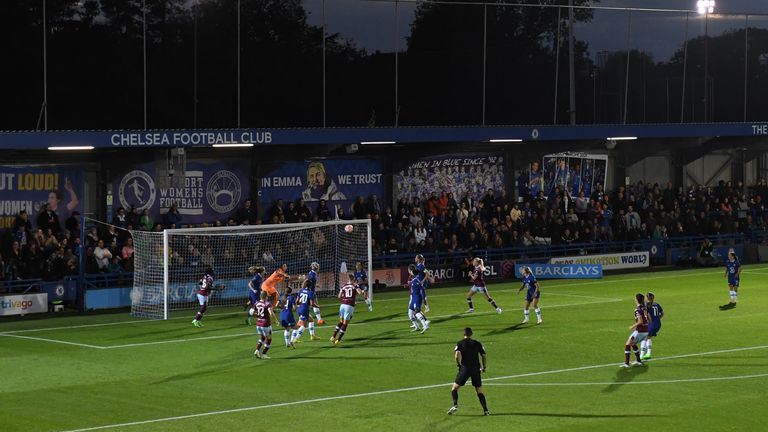 The Blues, who beat Manchester City after losing their opening match to newly promoted Liverpool, were quick to respond with Bright Mackenzie goalkeeper Arnold knocking out the line.
Read:

FSA calls for fans to be refunded as football postponed after Queen's death | Football
Kerr cut inside from the left and crashed 20 yards against the far post and the Australian striker quickly hit the other post with a low effort as Chelsea stayed on the front foot.
Team news
Katerina Svetkova and Yves Pereset made their Chelsea debut. Lauren James starred in Chelsea's hard-fought win over Manchester City on Sunday but was selected to the bench.
Izzy Atkinson was named to the West Ham bench despite his brilliance against Manchester United for the first time. Emma Snrill has also been included in the team.
The equaliser finally reached five minutes before the end of the first half when Kirby hit a cross from the left to drive the ball into the top corner.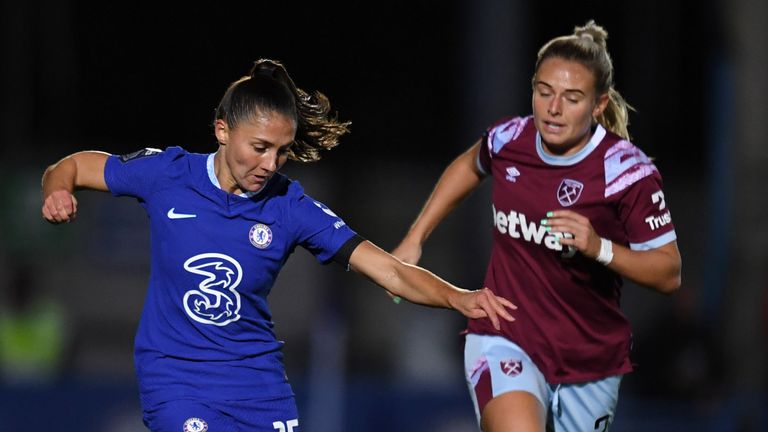 Chelsea remained in the attacking position at the start of the second half.
Their pressure was told just before the hour when Kerr scored after West Ham failed to clear after a corner kick landed in the six-yard box.
England defender Bright added another in the 63rd minute, heading from a corner kick.
With 15 minutes left, Chelsea were awarded a penalty after Lucy Parker James was brought down but the striker saw a poor penalty kick saved by Arnold down her left.
What did the managers say…
Please use Chrome browser for an accessible video player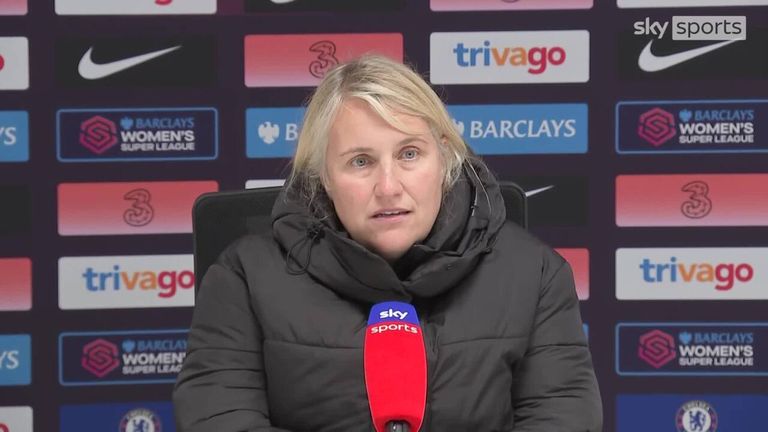 Chelsea manager Emma Hayes believes her team deserved to beat West Ham in the Women's Premier League 3-1.

Chelsea coach Emma Hayes:
"The side showed a great reaction to conceding an early goal and the result could have been greater. I feel that we are improving and we have advanced from the Man City match – our confidence has increased.
"It's very difficult for new signings to learn quickly but I'm really happy for Svetkova and Prisset who made their full starts tonight.
"Beth England was left out of the England squad but showed a phenomenal attitude. The current international calendar is meaningless – they have to be looked at completely and that's right. It's not right for the players' welfare.
"I can't go wrong asking the players – it's a beautiful dressing room that builds confidence. The team is where they should be after three games but there is still some rust."
Please use Chrome browser for an accessible video player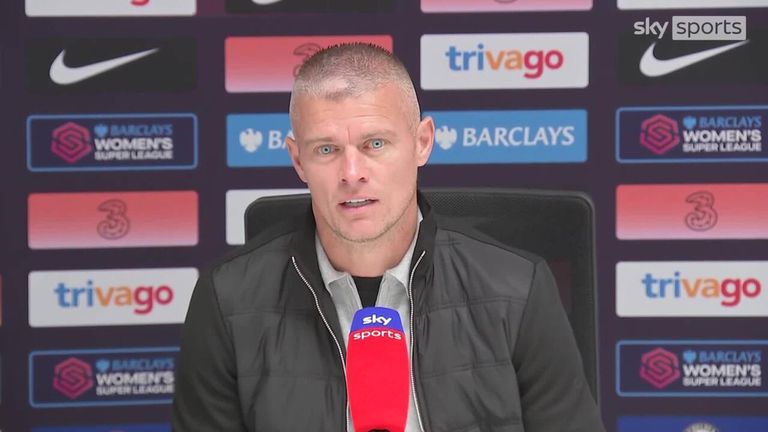 West Ham manager Paul Konchesky felt his team might have been unfortunate that nothing came out of it after their 3-1 defeat to WSL champions Chelsea.

West Ham chief Paul Konchesky told the BBC:
"You know what attacking power Chelsea they have. We talked about that before the game. I thought Fran Kirby's goal was a bit disappointing if I'm being honest, then (giving up) two sets of play which is very disappointing in our squad. In my name or for me.
"The set (which we conceded) was not necessary from us, I was disappointed in it. Obviously the goalkeeper saved a penalty as well. In general, it's hard to take but we play with Chelsea and maybe we have to take that today."
(About playing in the League Cup this weekend). "It's been a very difficult two weeks – three games in two weeks. I will try to renew the squad at the weekend to give some players a rest before they go on international duty. I am looking forward to the cup match and hopefully we can run the cup as well."
Man of the Match – Fran Kirby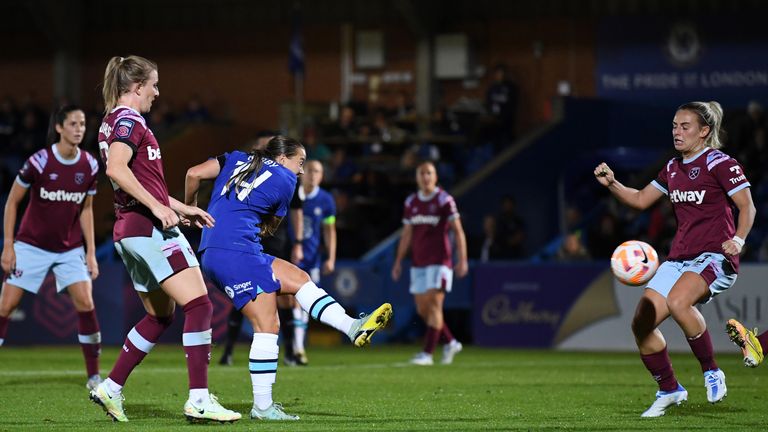 Chelsea striker Fran Kirby told the BBC:
"We were really disappointed to go down 1-0 so early. We were really good for showing a great personality.
"I enjoy my football and I'm glad I got into the penalty area as much as possible.
"We're very calm, we don't stress. Previously we were slipping and losing a bit. Nobody yells over their heads. There is a real calm in the team.
"Overall we have to improve. We were not satisfied with the result [losing to Liverpool on the opening day] But there was still this calm. We're just getting close to every game and we have that calm and belief that we can get the result."
Analysis: A big win comes at the end of the season?
Ben Grounds in Sky Sports:
"Chelsea are heading to international play after consecutive victories in the World Series of Poker. This has not been the great start from the five-time champions, but at Kingsmeadow they have continued their fantastic form. The victories over Manchester City and now mean West Ham. It is 27 games in all competitions at home without defeat.
Emma Hayes knows her squad was not at their best again during the opening period, but the second half gave way to a very one-sided relationship with West Ham with a 3-1 result.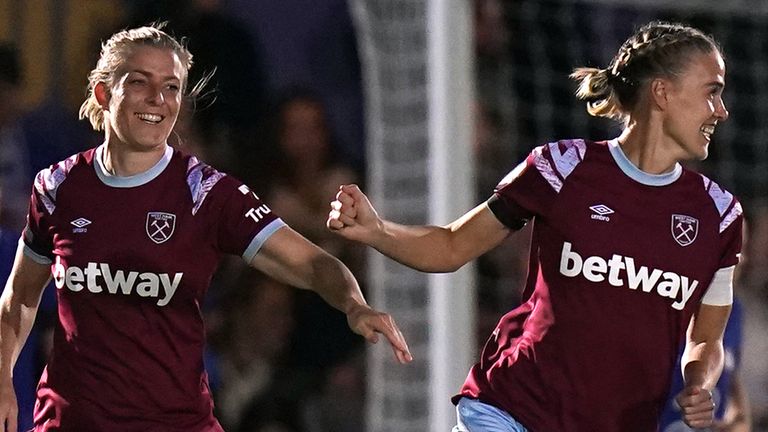 "This win could be very important at the end of the season. Hayes was not entirely happy but this job was done after a different team appeared in the second half. As the match went on, Chelsea shone in physical and quality.
"West Ham were not allowed to create rhythm and build on the positives from the opening period. Paul Konczky consoled their players at the final whistle and there was a hint of offside over Sam Kerr's goal – Chelsea's second crucial – but the home owners were ultimately clinical when the opportunities arose.
"Four teams now have six points, although the teams that beat Chelsea – Arsenal, Manchester United and Aston Villa – all played two points. This season already looks like it will be a fierce contender at the top."
What's Next?
Chelsea Next play on October 16 when they go to Everton After the international rest period. West Ham Play the day before October 15 with an away match in Aston Villa.