The head of Brazil's electoral court has dismissed a complaint by President Jair Bolsonaro's party to contest the October runoff election, which the incumbent narrowly lost.
According to the court document, Alexandre de Moraes, who is also a Supreme Court justice, also fined parties in Bolsonaro's coalition close to 22.9 million reais (4.1 million euros) for what the court described as a bad faith lawsuit.
Left-wing former president Luiz Inácio Lula da Silva narrowly defeated Bolsonaro in a runoff election on October 30, marking the return of the former left-wing president and the end of Brazil's most right-wing government in decades.
Read:

Colorado Springs shooting – live updates: Nightclub co-owner blames shooting on 'new type' of right-wing hate
Bolsonaro has remained largely silent since losing re-election, but the far-right leader has not explicitly acknowledged the outcome, though he has allowed a transfer of power.
Bolsonaro cited the "sense of injustice" of his followers, who in some cases continue to demonstrate in front of the military barracks to demand military intervention against the outcome of the elections.
Yesterday, Bolsonaro's Liberal Party filed a complaint challenging the election result claiming ballot papers from some 280,000 electronic voting machines were rejected, which they said contained defects and that their votes should be invalidated, an argument that election authorities met with initial skepticism.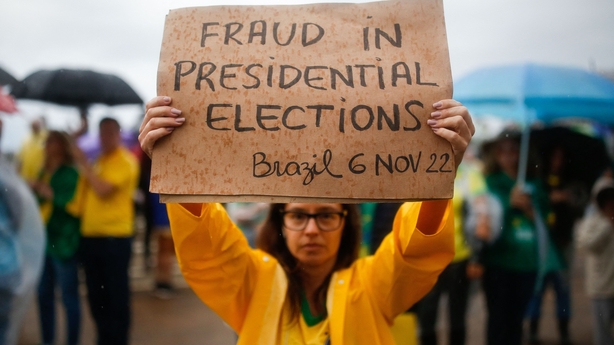 Bolsonaro's party has alleged a "flaw" in five ballot box models, supposedly to appear in a technical report by the Legal Voting Institute, appointed by the party itself, which it said would "jeopardize the transparency of the electoral process".
Read:

Swedish prime minister resigns as far-Right Sweden Democrats surge in election
Election experts and political analysts deemed the bid weak on merits, though it still managed to galvanize supporters who protested Bolsonaro's loss.