How Nottingham Forest, this legendary old club, had been waiting for a moment like this, when they beat West Ham to enjoy their first Premier League win in 23 years. When the announcer dipped the turnstiles at the City Ground an hour and a half before kick-off, which opened and his voice cracked a little as he once again welcomed Forest supporters to this beating stadium for a top match, it provided a reminder of the sense of occasion. .
An exciting and hard-fought match only heightened the electric atmosphere, the prematch palpable. Both teams saw goals disallowed and Declan Rice saved a poor second half from the penalty by Dean Henderson, as Taiwo Awoniyi's first Premier League goal ultimately proved the difference. West Ham could find themselves unhappy as they also hit the woodwork twice.
Read:

Major Man Utd revelation with Bruno Fernandes 'really angry' about failed Tottenham transfer
So Forest is in the air. As the old saying goes, the attackers don't care how goals come in and Awoniyi's first in Garibaldi red was nasty to say the least. The goal arose from Harry Toffolo's soaring run and cut-back to Jesse Lingard, whose shot was tame enough for Ben Johnson to block, but at the start of halftime, Awoniyi was in the right place at the right time to settle his bill. open after a 17lb movement. Lingard, who turned down West Ham in favor of a move to Forest this summer, got off to a good start, but this brave performance at Forest was about the collective, a team that is understandably still learning. Steve Cooper turned to the Forest fans and clenched both fists. "I spoke to the players about how there were probably three generations of supporters today, one that remembers the really good old days," Cooper said, dedicating the win to supporters who couldn't get tickets.
Read:

Newcastle can sign five attackers after transfer 'request' to Chelsea, Man Utd and Arsenal | Football | Sport
In an open letter, Forest chairman Nicholas Randall said the club has no intention of catching up on their return and given how difficult it is to keep up with the flurry of arrivals – the purchase of Neal Maupay appears their spending north of £125m – they seem to mean business indeed. French midfielder Houssem Aouar is also close to signing. "I really hope everyone is investigating why we had to make so many purchases and not just tell the story 'Forest signed a lot of players: why?'" Cooper said. "There's a real reason behind it and" [it has been] a real necessity. We would have liked to have continued with last year's squad and added a few players, but it would never happen. We are still in that process of becoming the team and the squad we want to be."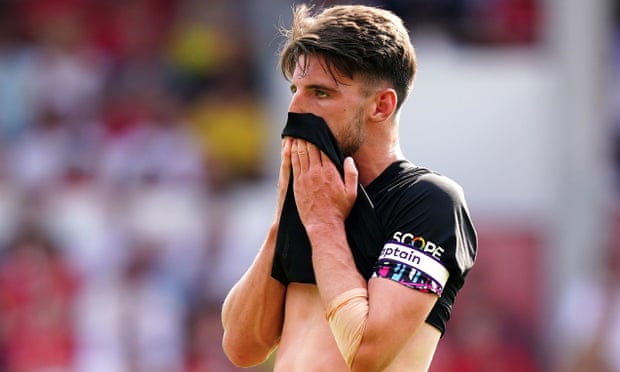 Forest also showed intention on the field. Eight of their summer recruits started here, including Orel Mangala and Awoniyi, who were both substitutes last weekend. West Ham, on the other hand, looked very familiar except for the mention of two goalkeepers on their bench. Awoniyi provided a welcome central point and Mangala showed a touch of class and gasped as he opened a half-filled cross wide to the lively Neco Williams, who went off the line too late to deny Kurt Zouma an equaliser. Only the water breaks halfway through each half, bringing calm to a frenetic game.
Read:

Olympian Katie Archibald tried to save partner Rab Wardell as he suffered fatal cardiac arrest | UK News
West Ham co-owner David Sullivan arrived aground in a royal red Rolls-Royce, but some Forest supporters took another mode of transport: arriving by boat on the River Trent. The buzz was palpable on an afternoon of enduring images; Captains Joe Worrall and Rice side by side in a tight tunnel; the Forest owner Evangelos Marinakis, in an open-neck white shirt, praying for a VAR check in their favor before Brennan Johnson's strike was disallowed; Henderson blows kisses to the stands after sparing low on his right to refuse Rice from 40 feet away; the pure sound when Born Slippy, the Trainspotting anthem, blared pre-match. Something seemed to be bubbling from the moment Awoniyi won an early corner and David Moyes's face was on his face in frustration as he played their oh-so-close. "We created enough chances to score the goals, but we didn't take them," he said.
West Ham were denied the opening goal after the referee, Robert Jones, was encouraged to visit the VAR monitor, with former Forest striker Mikhail Antonio clearly bursting in from the ball at Mangala in the seconds before Said Benrahma fired into the bottom corner. Pablo Fornals cracked the bottom of the bar for 23 seconds into the second half and shortly after the hour Benrahma curled a free kick against almost the same part of the goal frame. Then came West Ham's best chance, when Scott McKenna was penalized for handball after a VAR check for preventing Tomas Soucek from wiping Benrahma's cut-back into the net. Rice got up, but Henderson, in front of Gareth Southgate watching, headed in the right direction and made the save. "I know the favorite side of Dec [on penalties] like i trained with him before [with England]Henderson said. "I stuck with what I knew and luckily he put it there."
As the Forest supporters gleefully declared before and after the final whistle: Forest is back.